Mesh Windshields for Polaris Dagor and MRZR Defense Vehicles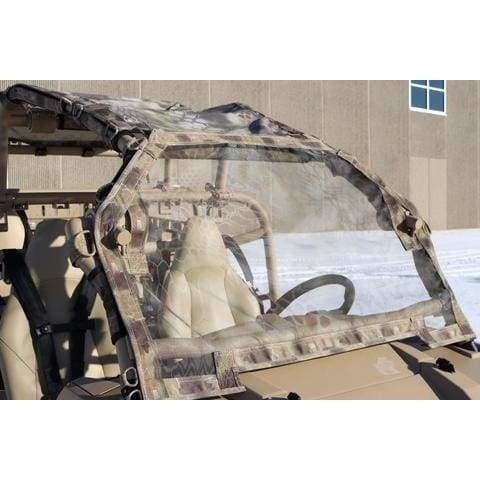 Rogue Powersports has a great deal of respect for the people that protect us and our country. We consider it an honor to have been working with the military and Polaris on a version of our mesh screen windshield for use on the Polaris Dagor and MRZR Defense vehicles for the past three years. Our Dagor and MRZR mesh windshields have gone thru several versions to get to the current version. They have been tested and used in the field. These models incorporate materials and features not found in our consumer models. They are hand made with great care by our craftsmen and because of the features and materials used in their manufacture they are labor intensive. They are 100% made in America, in our shop and like everything we make, they are carefully inspected by us before they leave. With the exception of one material, all the materials come from America. They are covered by two patents that have been granted. There is nothing else like our mesh screen windshields. 
The Rogue Powersports, Defense models require no tools to put on or take off and it can be done in minutes. Because of the unique design, it can be used as a half windshield or partial windshield. Please contact us to discuss the many features not discussed here that are incorporated for special uses. We have recently incorporated grommets with removable nylon rivets to attach the bottom of the screen to the vehicle for a very secure attachment.
Each of these is a custom crafted product and we can work with the customer to design and build the product they need.
The Polaris Dagor and MRZR mesh windshields are not available to the public. To purchase them you must be either Military, a Government Agency or Law Enforcement. For information, contact us at info@roguepowersports.com or call  our office at 972-215-7807 or 817-398-8776